Exhibitions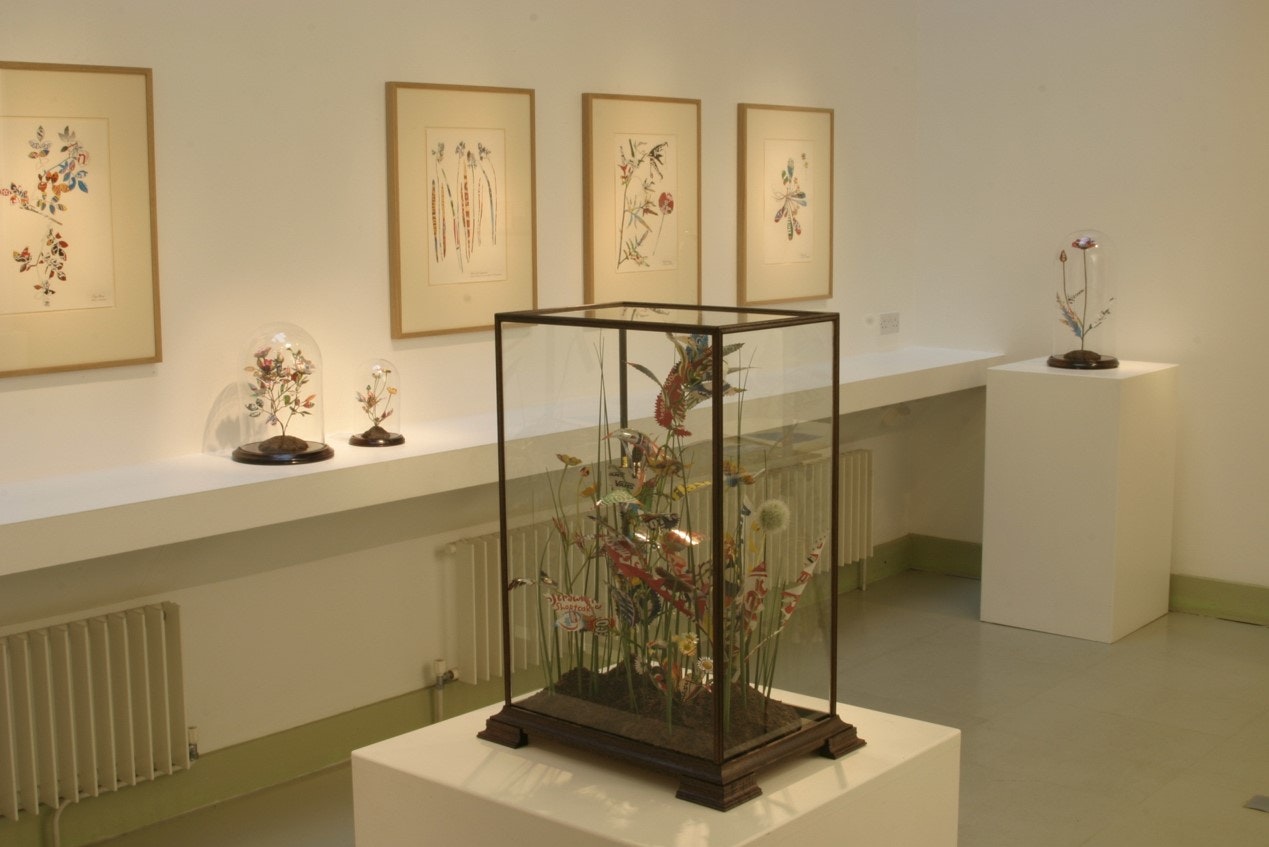 Selected group exhibitions:
2019 The John Ruskin Prize, The Holden Gallery, Manchester. On the Same Page, Jagged Art, London. The Small Publishers Fair, London. Recent Acquisitions, The Yale Centre for British Art, USA. British Land, Broadgate a showcase of Tracey Bush works with paper. 2018 2017 Migrations 2 February – 3 March 2017 Tracey Bush, Rachael Clewlow, Julie Cockburn, Déirdre Kelly & Hormazd Narielwalla. Eagle Gallery, London. Natural Histories, the ground floor lobby at 201 Bishopsgate, London. Part of the Urban Eden season. 2016 ON THE SAME PAGE - Loose leaves and bound books 9 March - 2 April 2016 Jagged Art, London. Chalk Hill an award-winning intervention created for 10 Days Chalk, Winchester City Museum 'Sharing Heritage' Tracey Bush at the Small Publishers' Fair, London. 2015 Bound/Unbound at DM Contemporary, New York, USA.Cornucopia at Jagged Art, Marylebone, London. 2014 Of Green leaf, Bird and Flower. Natural History and Artist's Books at the Yale Centre for British Art, USA. With catalogue.The Garden Show curated by Flow Gallery, London at Dyffyn Fernant, Pembrokeshire. 2013 Naturalienkabinette – Vorbilder aus der Natur. Natural history cabinets - examples from nature An exhibition of the Galerie Handwerk in the Munich Paleontological Museum. Topographic the Store Street Gallery, London. Craft Emergency at Aspex Gallery, Portsmouth. 2011 Natural Histories Eagle Gallery EMH Arts London 4 Feb-4 Mar. Paperworks curated by Yvonna Demczynska of Flow Gallery Notting Hill. 2010 In Miss Rowe's Footsteps. 4-27 March Eagle Gallery EMH Arts. Cut and Fold, the Art of Paper. New Brewery Arts, Cirencester, Glous. 7 Nov 2009-3 Jan 2009 Precious: Reclaiming Art and Craft Curated by Matt Smith. Hove Museum & Art Gallery. Be dazzled by the beauty in the overlooked and discarded. Pulp Fictions a showcase of artists and designer makers who use paper. Rochester Art Gallery, 21 June-30 August. Make Believe Curated by Frank Gallery, Whitstable at the Zetter Hotel, London. Paper Works An exhibition featuring International Artists who harness the sensitivity of hand-made objects through paper. Curated by Yvonna Demczynska. Flow Gallery. 2008 State Library of Queensland, Australia. Freestyle Books- Artist's Books from the Collection. Galerie Handwerk, Munich Artistic Toys 28 November-31 December. Barts Gallery London, presented by Vital Arts Material Worlds 20 October- 14 January. 2007 Galerie Handwerk, Munich. Die Blume 21June-28 July. Emma Hill Fine Art, Eagle Gallery, London EC1. Flora, 5 April-4 May. Edinburgh printmakers, Union Street, Edinburgh Inkubator, An exhibition of artists' books, prints and multiples curated by David Faithfull. 2005 Emma Hill Fine Art, Eagle Gallery, London EC1.Tracey Bush and Julie Cockburn. Mixed paperworks and artists' books.Yale Centre for British Art, 1080 Chapel Street, New Haven, USA. Recent Gifts and
Acquisitions. Arcadia id est, Artists' Books, Nature and the Landscape, An exhibition of 111 artists' books touring to venues in Europe, Australia and the USA until 2007.